[Water Well Drilling Rigs for sale]Drilling process and drilling development status
Drilling process and drilling development status
Drilling process:
Water Well Drilling Rigs Supplier shares that drilling is a system engineering, is a multi-professional, multi-work using a variety of equipment, tools, materials for joint operations. At the same time it is multi - procedures closely linked, multi - link continuous operation. The whole process of construction is quite complex.
Each well is completed in three stages: pre-drilling, drilling and completion. Every single project
Stage and a series of construction procedures. The main procedures generally include: well location, road survey, foundation construction, derrick installation, moving, equipment installation, primary spud, secondary spud, drilling, starting, bit change, drilling, well completion, electrical measurement, casing running, cementing and so on.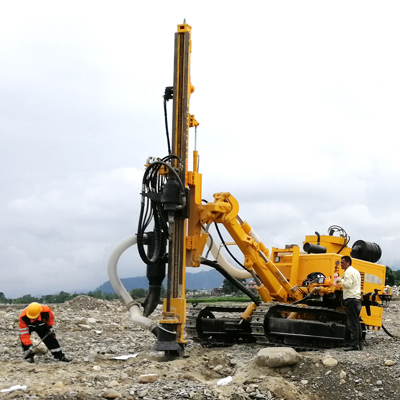 Current situation of the development:
In recent years, the global drilling workload continues to increase, with more than 110,000 Wells drilled worldwide in 2012. China is now the world's second largest oil rig.
Petrochina alone surpassed Canada and Russia in drilling in 2007. It's worth pointing out that horizontal drilling in the U.S. now takes more work than vertical drilling. With the large-scale development of shale gas, the number of horizontal Wells drilled in the United States has grown rapidly, rising to 17,721 in 2012, accounting for 36.7% of the total number of Wells drilled in the United States that year. Nearly 20,000 horizontal Wells are expected to be drilled in the United States in 2013. Most of the new horizontal Wells being drilled in the United States are used to develop unconventional resources such as shale gas, tight oil and tight gas. Nearly 10, 000 horizontal Wells were drilled in the harnett shale region alone in 2011. Some of the new shale Wells drilled by companies and in some areas are almost entirely horizontal. Similarly, with the large-scale development of shale gas, the drilling footage of horizontal Wells in the us increased rapidly, increasing to 6,980 X 10,000m in 2012, accounting for 60% of the total drilling footage in the us that year. The number of rotary RIGS in use in the United States for drilling horizontal Wells increased rapidly, from 55 in 2000 to 1 151 in 2012, accounting for 60% of the total from 6% in 2000. With the development of technology, the drilling efficiency of horizontal Wells will continue to improve, the drilling cycle and well construction cycle are expected to be further shortened, the unit footage drilling cost is expected to be further reduced, and the drilling efficiency of other Wells will be promoted.
In recent years, with the continuous increase of exploration and development workload, drilling workload presents a significant increase trend. The annual drilling number of petrochina has exceeded 20,000 and the drilling footage has exceeded 4,000 X 10,000 m. The increased workload has ensured continued improvement in China's proven oil and gas reserves and production.
That's all for the sharing,and we supply Water Well Drilling Rigs for sale, if you have any demand for our products,just feel free to contact us.