How to Choose The Right Drill Pipe
Smart drilling professionals don't rely on dumb luck when choosing their dumb iron. Selecting the right drill pipe for the job is just as important as any other part of the drill string - and will save you time and money. Here are some questions you should take into consideration when choosing your drill pipe.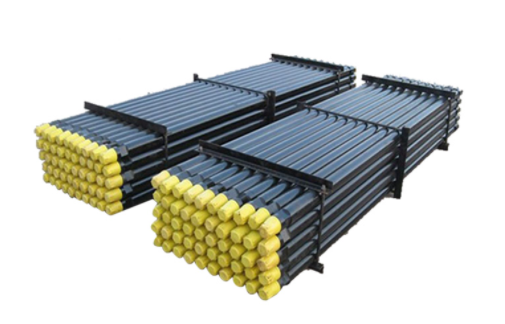 1. Location related & operational considerations
"When in Rome do as the Romans do". Location is one of the first things you should examine when choosing a drillpipe – which brings up a lot of questions you need to consider:
What kind of well are you drilling?

Is it a HPHT well or an ordinary oil/gas well? Is it a geothermal well (hydronic bore hole)? Are you drilling onshore or offshore? From a conventional fixed platform or from a floating rig?

What well profile are we talking about?

Are you drilling a straightforward vertical well or a directed well? Maybe a horizontal or S-shaped wellbore? Choose your drillpipe with the specific well design in mind

What are you drilling through?

What formation type are you drilling in? Some formations have concentrations of sour H2S gases, which may cause sulphide stress cracking (SSC) failures or corrosion in steel drillpipe.

What drilling method are you using?

What operations will you be performing? Rotary drilling (high RPM), rotary drilling in combination with mud motors (low string RPM)? Reaming?

How deep are you drilling?

The deeper and the more complex and demanding the well is, the greater the risk of over torque. This can be avoided by using a double shoulder connection on your drillpipe.

Don't forget the flow rate

The bigger the drillpipe ID, the higher capacity of bringing debris up to the surface via the annulus. Choose your drillpipe with circulation in mind.

What about handling & stacking?

What capacity do you have to store pipe on rig? Should you go for the standard range 2 length (31 feet per joint) or range 3 (45feet per joint). Which ranges can be handled by the pipe handling/racking system etc.?

Handling equipment and extras

Do you have all the necessary pup joints, XO-subs, safety valves etc. available?

What are the operating conditions?

Is the operation temperature extremely low or high? Long horizontal sections in abrasive sand formations?
2. Financial considerations
Should you buy or rent your drill pipes? What are the implications?
If you have a long term need, purchasing the drilling equipment will be cheaper than renting it – with a more predictable cost, since renting equipment entails markup and handling fees that in the long run can be substantial.
On the other hand, renting the drillpipe has some obvious benefits that should be considered:
You don't have to store unused dumb iron in your own yard

You don't have to worry about inspection and maintenance

You don't need to make big upfront investments

You don't need to tie up capital

You will have a wider selection of sizes, types, materials, configurations (OD & ID) and connections
P.S. In some countries rented drilling equipment can be deducted from the tax in the current year. If the rig is not active, the pipe can be sent back to the rental company. If you buy it, you will have an asset that sits in the yard, maybe for years, doing nothing. It is a lot of money to have tied up if the wheels are not turning
3. Quality
The tubular member of the drill string comes in a variety of sizes, strengths, and weights. Make sure that you get the most value for your dollar by choosing a quality drill pipe that is manufactured to the API, DS1 or NS1 standard.
We are a Drill Pipes supplier. Please feel free to contact us if you need them!